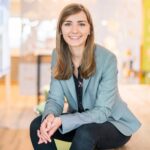 Junior onderzoeker
Nikita Poole, MSc
Over Nikita Poole, MSc
The promotion of health behaviours to prevent the development of lifestyle-related disease is a central theme in the work that Nikita undertakes. The breadth of this theme allows her to turn her interest and training to many topics such as type 2 diabetes risk perception, sun-protection, vaccination uptake and workplace burnout.
Nikita's background originates in the rehabilitation and management of musculoskeletal injury and long-term health conditions where she soon realised that her purpose lies in the prevention, rather than the treatment of these afflictions. Nikita has gone on to complete the master's in Health Education and Promotion (Gezondheidsbevordering) at Maastricht University, where she conducted a qualitative needs assessment into the university environment and sitting behaviour amongst students. Nikita finds it particularly important that research findings can be translated into adaptations to policy or practice.
At IVO, Nikita turns her hand to a new topic: reactions of tobacco industry to planned tobacco control measures. This research aims to enable policy makers and public health advocates to counteract policy interference from the tobacco industry, thus supporting the goal of achieving a Rookvrije Generatie. This topic seamlessly combines Nikita's enthusiasm for lifestyle-related disease prevention with policy- and practice-informed research.
Nieuws- en blogberichten